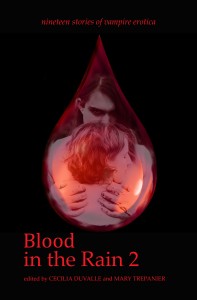 I'm horrible at blogging. Or updating. I hate this part of the writing business because of the technical stuff involved. I like to write. And I love to read. And I love connecting with people who enjoy the same. If you want to receive updates via email, please consider joining my brand new newsletter list. I will only send out an email when something new is published, and I'll include a link to where you can buy it.  The sign up is on the right column of this page, and you get access to my first-ever printed piece "Birthday Boy" as my way of thanking you.  It's a sweet little FemmeDomme piece.
So what's new for 2017?
1–Blood In the Rain 2 came out in October 2016. We had so many stories to choose from that it was difficult work. I love this collection, and hope you do too.
2–If Mom's Happy, an anthology edited by Brandy Fox will be coming out in May.  It was fun to write a story about a mom who's desperate to have her husband all alone at home so they can have sex all over the house. Having kids can cramp your lifestyle, but it doesn't have to mean the end of sexy times.
3–Blood in the Rain 3–Submissions are opening again very soon. Mary and I will be looking for more vampire erotica. New guidelines should be available on bloodintherain.com and at cwtchpress.com by the end of January.
4–I have another story that is pending with another anthology. Here's hoping it all comes together.  😉
Wishing everyone a grand 2017.