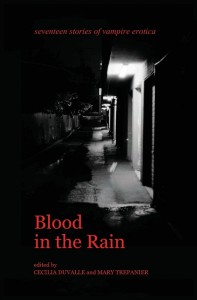 My first attempt at editing an anthology came out last week.  When my co-editor, Mary Trepanier, and I first sent out the call for submissions, I didn't know what to expect. And, I've been asked by friends who know I write erotica, "Why vampire erotica?" My answer is, "Why Not?"
This project started with a discussion about how we'd like to find a home for some of our current work. When Mary and I figured out that we both had vampire stories looking for placement, we decided to put together an anthology.  Mary is a writer and professional editor, and I have a degree in journalism. We've both been writing erotica for a while and figured we could work our way through the hoops and hurdles involved. We jumped in, and Blood in the Rain is the result. I thought we'd receive a handful of stories and have to resort to begging our friends to write something for us. We got WAY more than that. In fact, we got so many submissions we had to create an elaborate excel spread sheet to track them all.  One thing is clear, people love reading and writing about vampires!
After many hours of reading some incredibly awesome pieces, we picked fifteen other stories that were erotic in different ways.  We ended up with an eclectic mix–it's not all straight, or all gay, or all BDSM.  Instead, we went for stories that moved us or stayed with us after the initial reading.  We turned down stories we really liked but just didn't fit the overall mix or were too much like other stories we liked 'just a little more for some reason.' Editing an anthology is incredibly subjective, and I totally get that some readers will love some of the stories we included while hating others. Such is the nature of anthologies. I'm okay with that.
Here are three links to purchase this collection:
Click here to go to Barnes and Noble