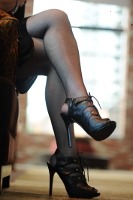 Cecilia Duvalle
… is a pen name. I chose to develop a nom de plume to protect my children from the embarrassment of having a mom who writes about sex and having everyone know she writes about sex.
I picked  up an Anne Rice novel that was originally written under another name. I was expecting a vampire or witch story, and what I got was one of my first glimpses of BDSM . I happened to enjoy it immensely, and I can probably credit the accidental picking up of "The Claiming of Sleeping Beauty" as an awakening of sorts.  (I know Rice's work is not particularly realistic, but for fantasy and a first experience it opened a door.)
However, with that incident in mind, I'd like to reserve my regular name for the writing that is considered more "mainstream" than that which I will present to the world under the name of Cecilia Duvalle and to save my children the embarrassment of being "that mom."
I have a number of short stories available in a variety of collections by some of your favorite erotica editors and publishers. To find all of my work, click the button below.